More than 100 near misses on Humber Bridge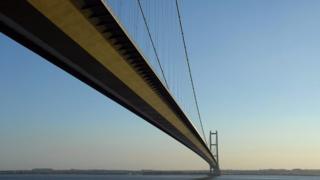 More than 100 incidents of unsafe driving, including U-turns or reversing out of wrong lanes, have been recorded on the Humber Bridge in five months.
A report by the Humber Bridge Board said there had been seven accidents and 134 "near misses" logged since May.
About 75% of the near misses were a result of motorists not knowing whether to enter a toll booth or a booth-free lane known as an "Open Road Toll".
The board said it had introduced "new signs to address the problem".
The report stated: "The wording on the signage had been too small and drivers were entering the wrong lane and reversing out, or performing dangerous U-turns."
A £7.4m electronic toll system was implemented in November 2015 when booths were removed from middle lanes allowing drivers using an electronic tag to cross the bridge without stopping their vehicle to pay.
New signs reading "no reversing", "no U-turns" and "no stopping" were installed on both sides of the approach to the toll booths.
In the report, the board said it would "provide clear signage to allow non-toll traffic to safely exit" the area.
It also said it would work with the local authorities "to review advance Humber Bridge signing to ensure it is clear the Humber Bridge is a 'toll' bridge.
Councillor Sean Chaytor, a member of the bridge board, added that "a more robust form of reporting near misses were introduced in May".
The report is due to be discussed at a board meeting on Friday.
A new bridge management team was appointed at the end of last year.