Modelling debut for boy, 11, with Down's syndrome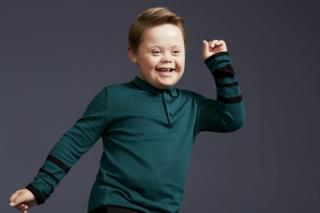 An 11-year-old boy with Down's syndrome has landed his first modelling job in a high street store's new advertising campaign.
Joseph Hale, from Cleethorpes, North East Lincolnshire, has become one of the faces of River Island's new children's clothing range.
His mum Karen Hale said she hoped it would encourage equal representation of disabilities in the media.
The young model said he was "excited" by the opportunity.
"It's really good. I had to pose, we had our hair and make-up done and I wore magic shiny shoes," he said.
Mrs Hale, 49, said the family was "very proud" of their son and that Joseph took to modelling "like a duck to water".
"He gets excited when he sees his photo. He's shown it to his friends at school," she said.
"Everyone's been really supportive, it's absolutely brilliant."
She says Joseph's Down's syndrome "does not define him at all" and he has an "infectious personality, he's just one big ball of fun".
"We're hoping campaigns like this one by River Island will pave the way for more inclusion and acceptance for people with disabilities in the wider world.
"Advertising can have a massive impact and people need to see that these individuals still have emotions, thoughts, feelings, dreams, aspirations the same as anyone else... and they need to be seen as equals at all times."
Joseph, who attends Cambridge Park Academy in Grimsby, says he enjoys dancing and spending time with his family.
He said he would like to continue doing "more modelling" but would like to pursue a career in hairdressing when he gets older.
The youngster's opportunity came by chance through his agency Zebedee Management, Mrs Hale said.
Josie Cartridge, customer director of River Island, said Joseph had a "star presence" and the company wanted to portray "a diverse group of children".