Hull Fair ride failure leaves dozens trapped 70ft in air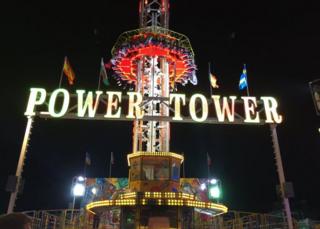 More than 30 people were trapped in mid-air for five hours when a fairground ride broke down.
A fault with the Power Tower ride at Hull Fair on Friday left the riders, aged between nine and 60, stranded about 70ft (21m) in the air.
Firefighters used an aerial platform to rescue those stuck on the ride.
The organisers of Hull Fair have apologised, saying a computer malfunction had caused the automatic brakes to activate.
Hull City Council said the ride would remain closed on Saturday to allow the owners to conduct "thorough and rigorous tests to find the cause of the computer system failure".
Incident commander for Humberside Fire and Rescue Service, Phil Leake, said the ride became stuck at about 19:00 BST and the last riders were taken off at about 01:00.
"We used our aerial platform - it's like a very large cherry picker," he said.
"We had to position that at certain points around the ride and then start to gradually take people off."
Riders were given drinks and blankets as the fire service worked to remove them from the ride.
Mr Leake paid tribute to those trapped, saying: "I would like to pass on my thanks to the members of the public that were on that ride.
"They were extremely patient and calm through the whole very long timescale of the incident."
A spokesperson for Hull Fair said: "We can only apologise for inconvenience caused.
"Unfortunately rides, whether they are located in a theme park or fairground, can break down."
Hull City Council said: "We apologise for any inconvenience caused by this closure, however the safety of visitors to Hull Fair is a top priority for both the council and fairground operators."