Photographs of Hull go on show in exhibition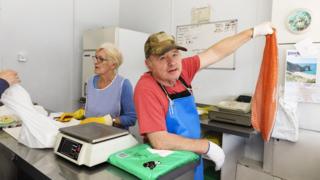 Photographs revealing "fresh perspectives" of Hull have gone on display.
Martin Parr and Olivia Arthur, who are members of the renowned photo agency Magnum Photos, spent a number of days taking shots of the city.
More than 200 black and white and colour photos are being exhibited at the Humber Street Gallery.
Director of Hull 2017 Martin Green said he was "delighted" to welcome the photographers to the city.
Parr's bright and bold photos include workers at a fish shop, the colourful interior of a fast food outlet and a tray of food at a delicatessen counter.
The 65-year-old photographer, a former president of Magnum Photos, is recognised for his documentary and photojournalism work and has published more than 80 books.
Arthur's black and white photographs capture a myriad of characters including young Elvis impersonators, bodybuilders, footballers and families in a variety of settings from domestic to recreational environments.
She has photographed a number of high-profile public figures including the Duke of Cambridge and actress Cate Blanchett.
Musician Chiedu Oraka, who was among those photographed, said: "I was really happy to be involved in the project, not only is it a great opportunity to be involved in a project by such a well-known photography collective, but it was also great that the lives and experiences of young people in Hull were being recorded in this way."
Mr Green said: "We are delighted to welcome the work of Olivia Arthur and Martin Parr to Humber Street Gallery.
"Their observational approach, which is justifiably renowned around the world, provides us with two fresh perspectives on this extraordinary year for the city as we look to the future."
Photographic co-operative Magnum Photos was set up by famous photographers Robert Capa, Henri Cartier-Bresson, George Rodger and David "Chim" Seymour in May 1947. Its members have produced many of the most iconic images of the 20th and 21st centuries.