Memorial to Beverley Broadgate Hospital's paupers' graves unveiled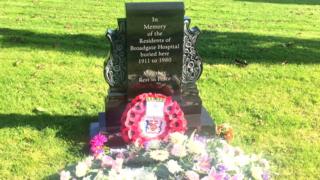 A memorial to 935 patients buried in unmarked graves at a former mental hospital has been unveiled.
They were interred in paupers' graves near Broadgate Hospital, in Beverley, which closed in 1989.
East Riding of Yorkshire Council said it installed a headstone, information board and planted trees around the graves in Queensgate Cemetery "as a mark of respect and remembrance".
A service of dedication was held at the cemetery.
All the men and women were buried between 1911 and 1980 in a section of the cemetery known as the Broadgate Compartment.
They were laid to rest in unmarked graves because they were "unclaimed by their families and did not receive a proper funeral", the council said.
Caroline Fox, chair of East Riding of Yorkshire Council, said: "It is sad to think that hundreds of Broadgate patients were buried in this part of the cemetery and almost forgotten.
"Thanks to the actions of the council's cemetery officers we hope these people can now be given the same respect and remembrance as anyone else.
"The headstone and noticeboard, and the trees as they grow around these graves, will stand as a reminder for generations to come."
The hospital was designed by architect Charles Henry Howell and opened as The East Riding Asylum in 1871.
In the 1920s it was renamed the East Riding Mental Hospital in a bid to dissociate itself from the "grim reputation of Victorian times", the authority said. It was later changed to Broadgate Hospital.
Following its closure, psychiatric services were transferred to De La Pole Hospital in Willerby and the building was demolished two years later, before the site was redeveloped for housing.