Hull hospital cancer patient's dying wi-fi wish honoured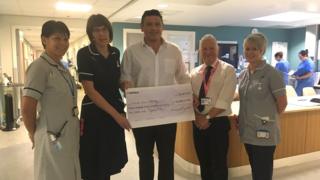 A hospital has introduced free wi-fi at its cancer ward 18 months earlier than planned after a campaign by a Hull man to fulfil his wife's dying wish.
Terry Garnett's wife, Beverley, died of pancreatic cancer in February.
He said he raised £15,000 after she "felt isolated" when she could not keep in touch with loved ones while on a ward at Castle Hill hospital.
Hull and East Yorkshire Hospitals NHS Trust thanked him for his efforts in "driving forward" its plans.
Mr Garnett said when his wife was diagnosed with cancer she was placed on a ward at the hospital in Cottingham where there was no wi-fi.
"There was no telephone signal and we found it incredibly frustrating to be able to keep in contact with each other," he said
"Being isolated on a ward, not being able to contact any loved ones, I think she didn't want other people to suffer like how she suffered."
"It was her dying wish that I put a campaign together... which would benefit other people who were on the ward."
The trust said it was "extremely grateful" for the funds.
Money raised by Mr Garnett would for pay for tablets and other portable devices that can be used by patients who are admitted to the hospital's Queen's Centre, the trust said.
It also said wi-fi was originally planned to be installed in "18 months time".
"By the end of the financial year we anticipate it will be rolled out across [the whole of] Castle Hill before we turn our attention to Hull Royal Infirmary in 2018."
Patients on the ward have been able to access wi-fi since Monday.