Calls to stop Humberston Fitties chalet park sale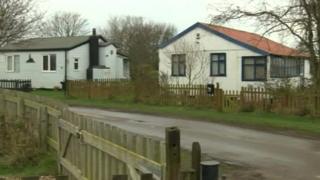 The sale of a holiday park on the Humber estuary should be stopped, a councillor has said.
North East Lincolnshire Council is in the process of selling Humberston Fitties to a company called Tingdene Ltd, which owns about 40 similar parks.
Councillor John Fenty fears rental rates would rise for the 330 tenants and has called a motion for it to be aborted, which will be discussed later.
Tingdene Ltd has been approached for a comment.
More stories from East Yorkshire and North Lincolnshire
Ward councillor for Humberston and New Waltham Mr Fenty said the council had not received assurances by the company to "safeguard the heritage of the site and lease terms for the tenants".
"I've called a motion to ask colleagues to consider aborting the sale of the Fitties.
"I think it's incumbent upon the council to make sure that there are safeguards for the heritage and for the tenants in handing them over to make sure that in effect they aren't left hostage to unreasonable terms going forward, which could in effect cause social cleansing of the Fitties.
"It's hugely important that we don't end up making the site elitist."
Councillor Matthew Patrick, portfolio holder for finance, said "certain reassurances" had been given by the firm including existing tenants being allowed to remain at the site.
"They're looking at offering at least the five-year lease that exists at the moment and even up to a 40-year lease as well."
The park's residents had hoped to run the site, which was first developed after World War One, with a £1.5m community bid.
In March residential park operator Tingdene was announced as the preferred bidder to take over the leasehold.