Wildlife trust claims development could affect at risk birds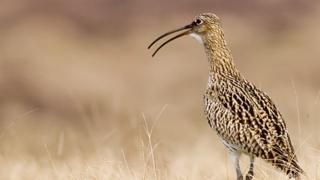 A wildlife charity has formally objected to the building of a business park, claiming it could affect the feeding areas of an endangered bird.
Yorkshire Wildlife Trust (YWT) said the proposed £200m development in Hedon, East Yorkshire, would have an impact on curlews.
Plans for the Yorkshire Energy Park include a data centre, education campus and power station.
Developers Sewell said that half of the site had been set aside for wildlife.
More on this and other East Yorkshire stories
Lauren Garside from YWT said the developers plans for an "ecological mitigation zone" did not provide enough land for the curlews to feed on.
"Curlews currently utilise 88 hectares of the site, whilst the proposed mitigation consists of setting aside 46 hectares for the species, a significant loss of habitat," she said.
"In addition, no offsite mitigation has been proposed at present. The loss of habitat will be further compounded by the noise, artificial lighting and visual disturbance that the construction period and resulting development will bring."
'Final proposals'
The curlew is Europe's largest wading bird and was added to the UK's "red list" in December 2015, indicating the species is under threat due to a decline in numbers over the last 25 years.
Rob Cawkwell, Yorkshire Energy Park's project director, said the plans for the site had been altered after consulting with various groups.
"The outline planning application contains a number of detailed reports and studies relating to the use of the site by birds and how we have accommodated and encouraged this continued use in our final proposals," he said.
A planning application for the site, on a former aerodrome near Hull, has been submitted to East Riding of Yorkshire Council.
Sewell Group said the scheme could create more than 1,000 jobs, with work expected to start early next year, if the plans are approved.