Kofi Annan gets Wilberforce honour at Freedom Festival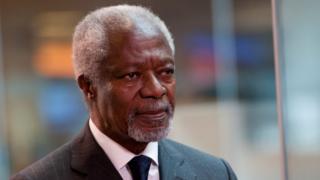 Former United Nations Secretary-General Kofi Annan has been honoured at a festival marking the work of anti-slavery campaigner William Wilberforce.
Mr Annan, who held the post between 1997 and 2006, was presented with the Wilberforce Medallion.
The Ghanaian diplomat was honoured for the work of the Kofi Annan Foundation and gave a lecture at Hull City Hall.
In it, he spoke about the present day threats to the fundamental human right of freedom.
'Not lose hope'
Mr Annan acknowledged the dedication of William Wilberforce in ending the hateful slave trade, but also spoke about an estimated 21 million people globally who are victims of forced labour today.
He also highlighted the plight of children who are forced into hard labour or sent to fight as soldiers, and those who are victims of traffickers.
The diplomat called for today's slavery to be tackled as aggressively as Wilberforce and his peers had done two centuries ago.
Mr Annan, who was awarded the Nobel Peace Prize in 2001, told the audience: "I know the situation I have laid out is dire but we should not lose hope.
"Instead, we should take inspiration from the legacy of Wilberforce and the abolitionists who proved that when individuals take personal responsibility and work together, they can transform the world."
The Wilberforce Lecture celebrates the historic role of Hull and Wilberforce in combating the abuse of human rights.
It is part of the Hull Freedom Festival - an annual arts festival established in 2007 to mark the 200th anniversary of Hull MP William Wilberforce's law to abolish the slave trade in the British Empire.
William Wilberforce: 1759-1833
Born on 24 August 1759 in Hull, he was the son of a wealthy merchant
He studied at Cambridge University, becoming friends with future Prime Minister William Pitt the Younger
He became member of parliament for Hull in 1780 and later represented Yorkshire
Shortly after taking his seat he converted to evangelical Christianity
Over an 18-year period he regularly introduced anti-slavery motions in Parliament
The Slave Trade Act was passed in 1807 but it was not until 1833 that an act was passed giving freedom to all slaves in the British Empire
He retired from politics in 1825 and died on 29 July 1833
He is buried at Westminster Abbey