Grimsby ice rink taken over by community group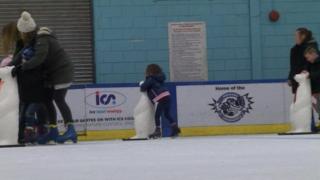 An ice rink has been taken over by a community group which campaigned to save it from closure.
North East Lincolnshire Council wanted to shut Grimsby's rink because it was too expensive to run. It invested £200,000 in a new ice pad in 2014.
But the Grimsby Ice Rink Community Group came forward with a business plan, which was agreed by the authority last month.
Keys to the rink have now been handed over to the group.
Councillor Matthew Patrick said: "I'm really pleased to see the Ice Rink Community Group's hard work in putting a sound business proposal together has paid off.
"I would like to thank the members of the group for their unshakeable hard work and dedication, taking ownership of this much loved community asset, and persevering to put together a strong business proposal.
"I wish them luck for the future."
In June 2014, the rink had to close after a mechanical failure of the refrigeration system. Three months later a temporary ice pad was installed at Grimsby Leisure Centre by the council after an online petition calling for its reopening attracted more than 800 signatures.