Hull teacher who sent pupil thousands of messages struck off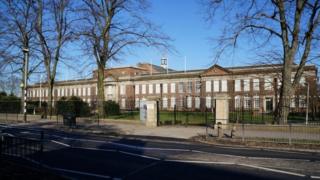 A married maths teacher who sent thousands of inappropriate messages to a former pupil has been struck off.
Stephen Allenby, 43, bombarded the girl via text and social media with messages, some containing sexual innuendo and remarks on her appearance.
In one the former teacher at Malet Lambert School, in Hull, said he wanted to have a secret chat with her while in the bath so no-one could see him.
Mr Allenby, who resigned in 2016, was given an indefinite ban.
More stories from East Yorkshire and north Lincolnshire
A misconduct hearing of the National College for Teaching and Leadership heard Mr Allenby began messaging the girl in June 2015 after she had left the school.
The panel was told the majority of the messages were inappropriate as they were of "a personal and sometimes intense nature, overly familiar and some contained sexual references".
'Sexual purpose'
In some he discussed waiting for his wife to go to bed so he could communicate with the girl.
He also told her on several occasion that he loved her and said they were "soul mates".
His communications with the pupil came to an end in September 2015 when the girl's parents discovered the messages between them.
Mr Allenby did not attend the hearing but had told the panel many of his comments were intended only as friendly "banter".
However, the panel concluded it was "more likely than not that the purpose of Mr Allenby's actions was sexual".
He was suspended by the school in September 2015 and resigned in March 2016.
A spokesperson for Malet Lambert School said: "[We take our] safeguarding responsibilities very seriously and on receipt of the allegations, the school took swift and appropriate action."