Giant Gok Wan part of '50 Queers for 50 Years' in Hull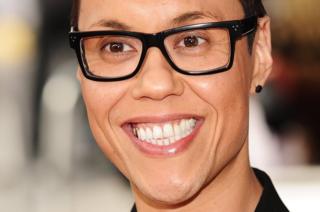 Key figures in LGBT history will be represented in a parade marking the 50th anniversary of the decriminalisation of homosexuality.
Arts organisation Duckie said "50 Queers for 50 Years" will include an 8ft tall model of designer Gok Wan.
Sculptures of Pam St Clement, aka Eastenders' Pat Butcher, and comedian Paul O' Grady's alter ego, Lily Savage, will also feature in the parade.
It is part of the first ever national LGBT+ Pride event to be held in the UK.
Comedian Eddie Izzard and artist David Hockney are among the other famous names to be represented.
The week-long festival in Hull celebrates the lesbian, gay, bisexual and transgender community, the group said.
People are also being invited to help create some of the figures at a series of workshops being held on Jameson Street in the city.
Duckie producer Simon Casson said: "50 Queers for 50 Years is not only a celebration of the huge steps forward in society, but also a chance to reflect on how recent these strides are and how fragile the foundations they are built on are."
He said to reflect this part of the parade will pay homage to footballer Justin Fashanu, who he said "made reference in his suicide note to being treated unfairly because of his sexuality".
In 1967, the Sexual Offences Act was passed which decriminalised private homosexual acts between men aged over 21.
The law was not changed for Scotland until 1980, or for Northern Ireland until 1982.
Hull, which is the UK's city of culture, has been chosen to host the first national LGBT event between 22 and 29 July.
The parade will kick-start a week of events, which also includes a concert headlined by Soft Cell frontman Marc Almond.