Spit hoods call by Humberside Police Federation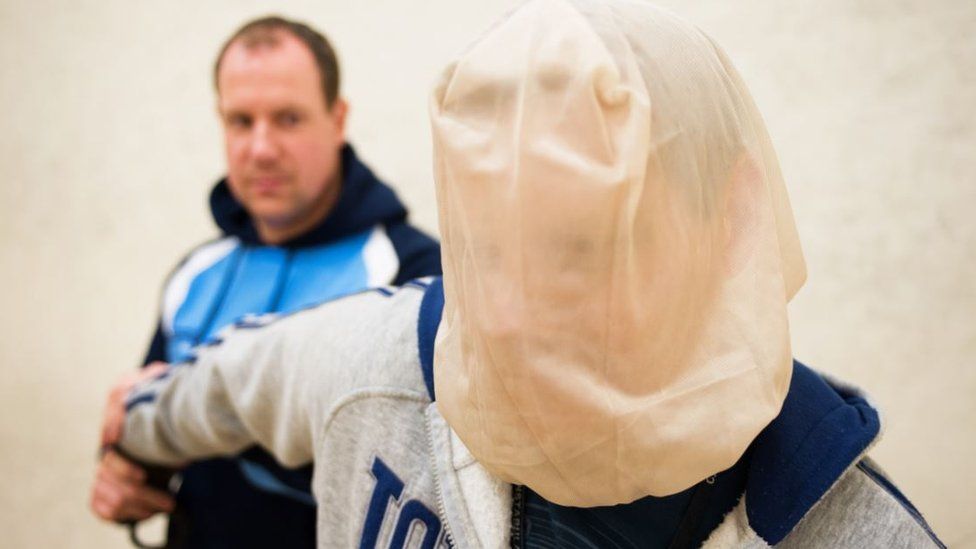 The use of hoods placed over a suspect's head to prevent them spitting or biting officers is being called for by officers at Humberside Police.
The mesh fabric spit hoods are already used by about a third of the UK's police forces.
Pete Musgrave, the chairman of Humberside Police Federation, said he thought it was "essential".
Solicitor Chris Topping said it was a "provocative and somewhat primitive way of dealing" with the problem.
Humberside Police said it was considering using the hoods but the force would look at national best practice before it introduced any pilot scheme.
The Police Federation represents members in all matters affecting officers' welfare.
PC Richard Eglen was spat at on his cheek while on duty, while he was in the back of a moving police car with a man he had arrested.
"To feel saliva running down your cheek, it does dawn on you this person might have some disease or viral infection that could infect me," he said.
"It shouldn't be part of the job."
PC Eglen said that with the right training the spit hood would be an "effective tool".
The person who spat at PC Eglen later admitted the assault and pleaded guilty in court.
Mesh fabric hoods placed over the heads of suspects to prevent spitting or biting.
They can only be used once and are usually used in custody suites or when moving people in custody from one location to another.
Critics say spit hoods are distressing and humiliating, can cause panic in the detained person, and make it harder to notice if a prisoner is having difficulty breathing.
The forces that use the hoods said it was only when proportionate, appropriate and justifiable to protect their officers.
Mr Musgrave said officers would not use hoods every day but they "would be there if it happens".
"You never know if you go to an incident whether that person will resort to spitting", he said.
Mr Topping, who regularly deals with complaints and claims of police malpractice, said: "I fully accept it is a horrendous thing to do but we need to be very careful that we don't have spit hoods used as a matter of course.
"The police already have a range of powers and tools to use when they are faced with people using force against them."
Related Internet Links
The BBC is not responsible for the content of external sites.