Circus performance in a Hull cemetery is 'abhorrent'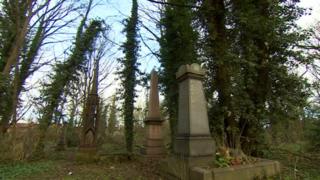 Plans to use a cemetery as a venue for an outdoor circus-style performance have been branded as "abhorrent".
The Depart production was granted permission to use Hull's General Cemetery in May as part of the city's City of Culture celebrations.
One man, who has family buried in the adjacent graveyard, said the idea was completely "disrespectful".
City of Culture organisers said the performance would be completely sensitive to the location.
Read more about this and other stories from Hull and East Yorkshire
Depart involves contemporary dance, choral performance and a variety of contemporary circus skills including aerial acrobats.
It is performed by Circa, a contemporary circus company from Australia, who debuted the production at Tower Hamlets Cemetery Park in 2016.
Although the General Cemetery closed in the 1970s Johnathan Edmiston has relatives buried in the neighbouring graveyard which is still open.
He said: "I think this is completely abhorrent.
"They are swinging from trees like acrobats, performing what is in effect a circus act.
"I feel it is sacrilegious and it is disrespecting the memory of the people who are buried here."
Martin Green, chief executive of Hull 2017, said: "That might be the impression but this is contemporary circus, which is best described as beautiful, aerial dance.
"No-one is going to be standing on any graves but it is a piece that responds to cemeteries and what they are for."
The Depart is due to open on 18 May and run until the 21 May.