Doormen call for glass ban in Hull's pubs and clubs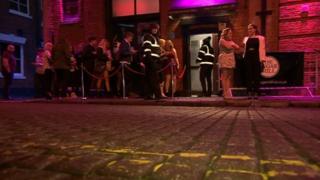 Doormen have called for a ban on drinks being served in glasses in a city centre after a spate of recent incidents.
On New Year's Day, doorman Troy Hammdeh received 14 stitches after he was glassed in Hull.
Andrew Lewis, spokesman for the campaign, said the aim is to make the city safer for both staff and public.
Another victim, Iain Spivey, said he did not support a ban but wanted to see more done to tackle problem drinking.
Mr Hammdeh, who works at Sugar Mill nightclub in Hull city centre, was glassed with a beer bottle after a fight broke out near the venue in the early hours of New Year's Day.
Mr Lewis said incidents involving bottles and glasses were becoming more frequent.
He said he had witnessed a number of people being glassed, including one person who was struck in the eye with a broken bottle.
Mr Lewis said the recent incident involving Mr Hammdeh also highlighted the "everyday risks faced by door staff".
The campaign wants to see plastic bottles used in all late-night bars and clubs in the city.
However, Mr Spivey, who was glassed in the face while trying to help a girl caught in the middle of a fight, said more should be done to clampdown on people drinking too much.
He said a ban would spoil it for the vast majority.
"If I'm going to have a cold beer, I want it in glass bottle," he said.
Mr Spivey added clubs should enforce existing policies such as keeping drinks off the dance floor.
The campaign comes as Hull begins its year as UK City of Culture.