UK City of Culture: Hull charter exhibition marks city's history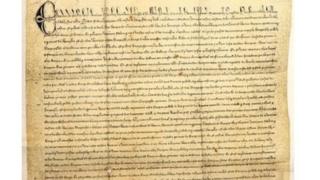 An exhibition has opened telling the story of the first four centuries of Hull through its city charters.
The Hull Charters Exhibition features the city's first document, which dates back to 1299, when King Edward I bought the settlement of Wyke on Hull.
It was then renamed Kingston upon Hull - meaning king's town.
The charters also showed how Hullovians were granted privileges, rights and responsibilities as the city grew and developed.
From relatively small beginnings, Hull grew into a major commercial hub, organisers said.
City archivist Martin Taylor said: "It really is something, a real connection with the city's past to see our birth certificate, the 1299 Charter. The original medieval parchment dated 1 April 1299 which brought what we now know as the city of Hull into being."
More on this and other local stories from across East Yorkshire
Other kings and queens gave charters to Hull over the years, granting new privileges and confirming existing ones.
The charters also instituted local government consisting of a mayor, a sheriff, and 12 aldermen.
The exhibition is being held at Hull History Centre, and will run until 24 February 2017.
It is part of Hull's 2017 City of Culture celebrations.
How Hull is aiming to win over the sceptics
Why City of Culture will change Hull
Hull is the second city to be given UK City Culture status, following Derry-Londonderry in 2013.
---
The making of Hull
The birth of Kingston upon Hull
There had been a town where the River Hull met the Humber for about 100 years before the first charter. It was called Wyke and was owned by the Abbey of Meaux.
In 1296 King Edward I bought Wyke, and the neighbouring settlement of Myton, from the monks of Meaux, as an investment and to provide a base for supplying by sea his troops in Scotland.
The charter, dated 1 April 1299, gave the town a new name, Kingston upon Hull.
It is written on parchment, and treated in animal skin. It is written in Latin, and is addressed to the important people of the Kingdom.
Rights and responsibilities outlined in Hull's charters
Under Edward (1272-1307), Kingston upon Hull is allowed to hold a monthly market. The city is also allowed to hold a fair every year for 30 days.
Under Henry VIII (1509 - 1547), foreigners were not allowed to buy or sell within the town of Kingston upon Hull except during the markets or fairs.
Under Edward VI (1547-1553), Hull was granted the right to have courts of justice. He also granted the castle and blockhouses - fees from rent were paid to the Crown on 1 August every year.
Under Elizabeth I (1558-1603), merchandise sold by or bought by citizens of Hull trading with foreigners could be seized by the queen. She also introduced elections for dignitaries, including the mayor.
Source: Hull History Centre
---