Paull Holme Tower gets restoration money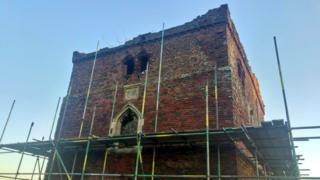 A 15th Century fortified tower in East Yorkshire is to be restored following a £160,000 grant from Historic England.
Paull Holme Tower is believed to have been part of a large house which once stood near the village of Paull on the banks of the Humber Estuary.
It is Grade I-listed and a scheduled ancient monument, as well as being on English Heritage's at-risk register.
Owner Simon Taylor described news of the funding as "a cracking Christmas present".
More on this and other East Yorkshire stories
Mr Taylor, who has campaigned for 25 years to save the structure, said restoration work would start in the next few weeks.
He said a roof would be installed and crenellations added, which he described as the "castle bits".
"They are the big-ticket items," he said.
"When you come and look at the tower you'll be able to see it looks like a proper castle and the last time it looked like that was in the 1900s."
'Seriously unique'
The two-storey building was built for the Holme family and was partially restored in 1871. It fell into disrepair during the 20th Century.
Mr Taylor said that it would be restored using specially commissioned hand-made bricks.
"There aren't many other brick structures from this period and that's what makes it seriously unique," he said.
"In a way it's what is going to save it, because bricks are easy. We can make bricks to match these ones on the building here."
Work is expected to be finished by September.