Proposed Grimsby Town FC stadium images released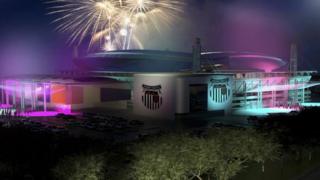 Images of Grimsby Town Football Club's proposed new 14,000-capacity stadium have been released.
The £55m plan for the Peaks Parkway site also includes an ice rink, other leisure facilities and housing.
It is due to be presented at North East Lincolnshire Council's cabinet meeting on 18 January.
Developer Extreme Leisure said it would start work towards submitting a planning application if the visual plans were given the go-ahead.
Extreme Leisure chairman Alistair Gosling said: "If approved at cabinet we will be instructing a thorough consultation process so that we can deliver a vibrant and quality new development that will attract visitors, provide regeneration, invest in local facilities and support Grimsby Town FC.
"Our professional team have also taken into account some of the concerns raised at this early stage.
"We look forward to working in partnership to turn the Community Stadium projects into reality."
Peaks Parkway was confirmed as North East Lincolnshire Council's preferred location for the stadium.
But a councillor said the development was too large and in the wrong area.
Extreme Leisure said 320 full-time jobs would be created, excluding construction jobs.