Hull hospital trust admits baby ashes error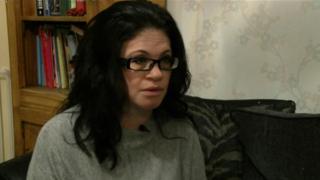 A Hull hospital has admitted it was wrong to tell a bereaved mother there were no ashes from her baby's cremation, her lawyers have claimed.
Claire Clappison was 18 weeks pregnant when her son Hayden was stillborn in 2003.
She is taking legal action against Hull and East Yorkshire Hospitals NHS Trust after discovering in 2013 that his ashes were held at a funeral directors.
The trust said it was unable to comment due to the ongoing legal action.
According to her solicitors, Mrs Clappison is suing for "psychiatric injury" - a claim the trust has denied.
Andrew Petherbridge, of Hudgell Solicitors, said he had received a letter from the trust's lawyers confirming a "breach of duty of care" towards Mrs Clappison.
'Find closure'
Her case is one of the more than 1,000 instances of crematoria across the UK not returning the ashes of babies to their parents over the past five years.
The outcry led to the government introducing new regulations governing cremations in England and Wales in October.
Mrs Clappison said she felt "horrible" when she discovered her baby's ashes were in storage.
"You have to relive that whole process again," she said.
"You're trying to find closure, when you've already found closure once, but it is whole different way of dealing with things.
"You don't know what to do."
She said the legal action is to get "justice" for her son and the children of other parents in the same situation.
"I wanted somebody to be accountable," she said.
"For somebody to say 'it was us'. It's not something that should be taken lightly.
"Somebody needs to say it was them, to say sorry and to admit they were in the wrong on this."