Poppy Widdison death: Mum accused of lying about drug text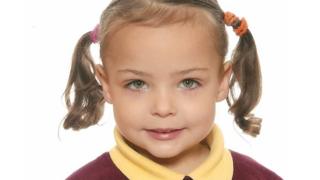 A mother accused of feeding her four-year-old daughter sedatives has been accused of lying about texts that she had sent referring to "blue smarties".
Poppy Widdison, from Grimsby, died from a cardiac arrest in June 2013.
Michala Pyke, 37, of Ladysmith Road, and her ex-partner, John Rytting, 40, of Frederick Street, deny child cruelty.
Ms Pyke has told Hull Crown Court the text was an attempt to catch out co-accused Mr Rytting.
She told the court she suspected Mr Rytting of feeding the four-year-old sedatives, and "blue smarties" was a reference to diazepam.
The prosecution claim the pair gave the little girl drugs shortly before her death in 2013, a charge they both deny.
'Have a blue smartie'
Ms Pyke admitted under cross examination telling police and a previous judge under oath those texts to her former boyfriend were about sweets.
Giving evidence for a second day she was asked by Timothy Roberts QC, who represents her co-accused, about a text in which she said: "She can have a blue smartie and go to sleep! LoL!xx"
"It was my twisted way of trying to get information but it didn't work anyway", she replied.
Ms Pyke told the court that she was addicted to drugs and that Mr Rytting was giving her free heroin up to Poppy's death.
The court also heard her daughter was named because of the name's link to heroin by her former partner, Poppy's dad Brendan Widdison.
When Katherine Goddard, Ms Pykes' counsel, why her evidence was "inconsistent" she said that she just didn't want to "admit it" until now.
Ms Pyke has admitted emotional abuse, Mr Rytting admits some drugs offences and both admit a charge of cruelty relating to having unsecured drugs in the house but both deny ever giving prescription or controlled drugs to the little girl.
The trail continues.