Hull's Preston Road Women's Centre given £1m lottery grant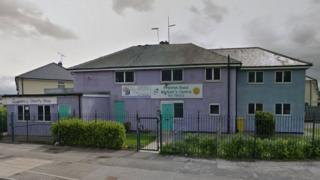 A women's charity has been given almost £1m in a grant to build a new centre.
The Preston Road Women's Centre, also known as Purple House and Winner, provides information, support and advice to vulnerable women and families in Hull.
The money from the Big Lottery Fund will help to pay for a £1.1m purpose-built centre.
Trustee Lisa Hilder said: "We're absolutely bowled over by this donation."
Since it opened in 2000, the charity has helped more than 5,500 families and offers a nursery, training courses, clinics, a housing service and a not-for-profit legal service.
Ms Hilder said: "Our current building, which is actually two houses knocked together, has served us well, but we've outgrown it, and need to expand."
The new centre will be "fit-for-purpose" and allow the charity to give more support to vulnerable women and families in Hull.
Ann Clarkson, the centre's co-ordinator, said: ""Our services have outgrown the centre, not to mention that it's starting to fall to pieces so it's not going to be safe for us to work there very much longer.
"The new build will mean we'll be able to expand our services and accommodate more families."
The new centre will still be purple, and will have double the training space, a larger nursery and a bigger, purpose-built charity shop.
The charity has raised a further £21,000 of the additional £151,000 needed to pay for the new centre, which is expected to open in 2017.