'Giant cheese grater' sculpture plans approved for Hull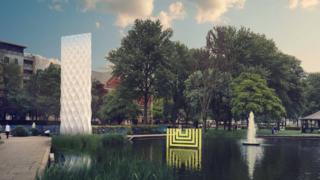 Revised plans for a sculpture which was previously likened to a "giant cheese grater" have been approved.
The 10m-high (33ft) Shadow Gate sculpture had been earmarked for a site near Beverley Gate, the medieval entrance to Hull.
However, in May, councillors rejected the plans claiming it was the wrong location.
The sculpture, which has been redesigned and renamed Solar Gate, will now be sited in Queen's Gardens.
Hull City Council said it would provide a focal point within the city centre park.
The sculpture - designed by architects Tonkin Liu - will also be etched with 24 key dates in the city's history which will each be highlighted in turn by the movement of the sun.
Work is scheduled to begin before Christmas with completion due in the spring.
In its coverage of the previous planning meeting, The Hull Daily Mail reported Councillor Nadine Fudge saying: "It might be a nice sculpture but I think it looks like a giant cheese grater."
Committee chairman Councillor Sean Chaytor said: "It's totally inappropriate and should be placed in a more modern setting."
The Beverley Gate was where King Charles I was refused entry to Hull in 1642, one of the events cited as sparking the English Civil War.
Last year the authority wanted to cover up the site for its City of Culture 2017 plans but ruled it out after a campaign against the idea.
The sculpture is part of the City of Culture 2017 public realm works.