Hull pledges to become skateboard centre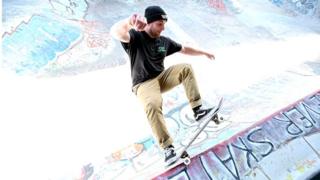 Hull plans to become well-known as a centre for skateboarding and to host an annual skateboarding festival, according to the city council
The 10-year plan is part of the city's cultural strategy and anticipates a boost as skateboarding becomes an Olympic sport in Tokyo 2020.
The city already has 10 skateboarding facilities in its parks
Mark English, of indoor skate arena Rock City, said: "It's a really big step for Hull".
Mr English praised the "vision" of Hull City Council and said "it was exactly how local councils should work".
The growth of the sport in the city had "happened organically" over several decades, he said.
Hull is to be 2017 City of Culture and hosting such an event had already helped "change people's perspectives from kids on the street to the council", he said.
Hull could become the "first city" for the sport in the UK, he added.
On of the country's former top professional skateboarders, Scott Palmer, is from Hull and started in the city's parks.
"Skateboarding is one of the most progressive sports or activities, people are pushing the boundaries all the time," he said.
Councillor Terry Geraghty said: "As a city we support the mainstream sports well, but we also need to ensure we support the more diverse sports such as skateboarding."
The council is to design "skateboard-friendly" areas in new projects for public buildings.