Immingham Washdyke Estate demolition plans change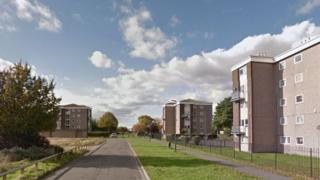 Plans to demolish 224 flats in a North East Lincolnshire town have been changed.
Originally all nine blocks on the Washdyke Estate in Immingham were to be pulled down by a housing association.
Now Shoreline Housing Partnership has decided to keep three of the blocks following a consultation with residents.
Tenants will be rehoused over the next few months, with demolition work expected to start at the end of 2018.
More on this and other North East Lincolnshire stories
Shoreline said 64% of respondents were in favour of pulling down the flats and building new housing on the site.
The housing association's chief executive Tony Bramley said demolition was needed "allowing us to tackle properties that have a negative financial impact on us and freeing-up cash to purchase or develop more new homes".
According to Shoreline, demolishing the flats and redeveloping the site would save more than £1m.
"Our board has considered this very carefully and believe that this revised plan meets both the concerns of local residents while being in the long-term interests of Shoreline," said Mr Bramley.