Hull 'tent city' protesters remain despite eviction order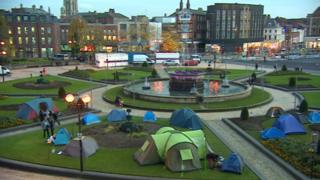 Homeless protesters in a "tent city" in a Hull park have defied a court order for them to leave.
The camp of about 15 tents was set up in Queens Gardens in the city centre on 4 November.
Hull City Council was granted a county court eviction order requiring the protesters to leave by 16:00 GMT.
TV presenter Jeremy Kyle visited the site as the order expired, causing a small disturbance as abuse was shouted at him.
Organiser Haydn Jessop said: "A member of the public was hurling comments at him."
He said Mr Kyle's visit was not designed to coincide with the eviction order deadline.
Mr Jessop said: "We have been in talks with Jeremy Kyle for a while. It was sorted last Thursday with him to come up.
"He has highlighted a massive homelessness problem."
The protesters have said they wanted to stay on the site until the council has housed all of those living in the tents.
"The simple fact is that we asked for that extra two to three days just to try and help the rest of the guys get housed," Mr Jessop said.
He said he was not continuing with his involvement with the camp but said it was the protesters' "own choice if they want to carry on with it".
Hull City Council said that outreach workers "continued to engage with any of the remaining rough sleepers to offer support and hostel accommodation".
It said there were more than enough spaces in hostels and shelters to ensure no-one was sleeping on the streets of the city.
The authority has also been granted a court injunction forbidding the protesters from setting up the camp on any other council-owned land.