Hull-Selby rail electrification project rejected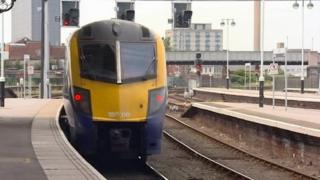 Plans to electrify the rail line between Hull and Selby have been thrown out by the government, which says the disruption would outweigh any benefits.
First Hull Trains first proposed a fast-track electrification of the 70 miles (112km) of track in 2013.
The plan would have guaranteed faster journey times between Hull and other cities in the North as well as London.
Labour MP for Hull North, Diana Johnson, said she was "very angry" at the decision.
"If they are really sincere about the 'Northern Powerhouse' then Hull has to be included in infrastructure investment," she said.
Keep fighting
The Department for Transport said the introduction of bi-mode trains, powered by diesel or electric, by First Hull Trains and improved services on both the East Coast Mainline and the Northern Rail franchises meant electrification was unnecessary.
Under secretary of state Paul Maynard said in a letter to the area's MPs: "The passenger benefits can be delivered without the significant disruption of electrification.
"There is almost no further benefit to justify further publicly funded investment and the disruption electrification would bring."
The cost of the scheme was estimated at about £100m in 2013.
Ms Johnson said the scheme had been supported by all the region's MPs and the business community and added that she would keep fighting for electrification.
"We know electric trains cut journey times, they are more environmentally friendly and are a better experience for passengers," she said.
First Hull Trains has not yet commented.