Eviction order to remove Hull 'tent city' homeless protest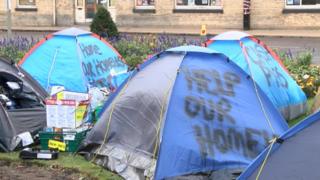 A court has ordered homeless protesters living in a "tent city" to leave a Hull park.
The camp of around 16 tents was set up in Queen's Gardens in the city centre on 4 November.
Hull City Council was granted a county court eviction order requiring the protesters to leave by 16:00 GMT on Thursday.
The organisers said the protesters wanted permanent accommodation rather than temporary places in hostels.
More on this and other Hull stories
In a statement, Hull City Council said: "We hope the organisers of the encampment will co-operate fully with the legal ruling so the land can be returned to public use."
Organiser Haydn Jessop, who represented the protesters in court, said he thought the camp would come to an end.
"Because we are working closely with the council at the moment, I don't believe that we'll need to take it anywhere else," he said.
"I just want these guys to get into some kind of accommodation."
The council said it is applying for another court order to stop the protesters setting up camp elsewhere in the city.