Legal action remove Hull 'tent city' homeless protesters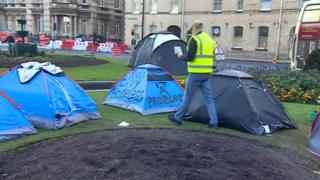 Legal action has started to remove homeless protesters living in a "tent city" in a Hull park.
Last week, around 16 tents were pitched in Queen's Gardens in the city centre.
Hull City Council issued notices saying it was seeking an eviction order in court after it claimed the protest organisers' behaviour was "becoming increasingly intimidating".
One of the organisers, Haydn Jessop, disputed the council's claim, saying their behaviour was "fantastic."
"The atmosphere is always on a high, we've not even had a fight on camp," he said.
In a statement the council said that its outreach workers had met with the people living in the tents "and offered the occupants hostel places".
'Significant problems'
"Sadly, we now know that the organisers of tent city are advising these vulnerable individuals to reject our offer of accommodation and remain on site for the false promise of permanent accommodation.
"Many of these individuals have significant problems, addictions and complex needs and it would not be in their best interests to offer them a permanent tenancy until they are ready to live independently. We will not set people up to fail."
Mr Jessop said that most of the protesters did not want to go into emergency accommodation offered by the council.
"These guys have been let down by the emergency hostels and emergency accommodation before," he said.
"These guys don't want to go to the emergency accommodation, so it's not me stopping them."