Hull's Holy Trinity Church to become Minster on 13 May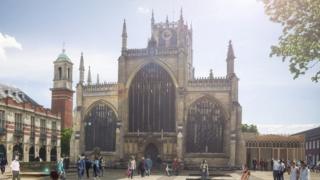 Hull's Holy Trinity Church is to be given the status of Minster at a ceremony on 13 May next year, the Archbishop of York has announced.
Two years ago, Dr John Sentamu revealed it would become Hull Minster if a £4.5m revamp of the church "was successful".
The interior is being restored and remodelled for large events in time for Hull's City of Culture year in 2017.
Dr Sentamu announced the date while on a visit to see progress of the work.
He said Holy Trinity was "doing great things to reach out to the local community".
"Two years ago I came here and urged people to dream big about the possibilities for Holy Trinity and for the city of Hull as a whole and to give their all to make the vision a reality," he said.
"It is fantastic to see so many people and organisations getting behind the development project and providing the funds to drive it forward."
The Bishop of Hull, the Right Reverend Alison White, said it was "a great gift to the city, especially during the City of Culture year".
The Vicar of Holy Trinity, the Reverend Canon Dr Neal Barnes, said: "We are so grateful for the tremendously generous support we have received and the Archbishop's announcement will serve as an additional motivation to deliver in full what we believe will be a truly transformational change for Holy Trinity and the city of Hull."
---
Hull Holy Trinity facts
The church was built in the 1300s, replacing an earlier chapel, after King Edward I granted the former settlement of Wyke a Royal Charter and re-named it Kings Town upon Hull
It is the oldest brick-built building in the city and there are claims it is the largest parish church in England
Anti-slavery campaigner William Wilberforce, who was a parliamentary leader of the Abolition movement, was baptised in the church's font
During World War One, the church was saved from bombing on 7 June 1915 due to a change in wind direction. A bomb which fell nearby started a fire and it was reported that the heat within the church during the blaze "was terrific and the lead of some of the stained glass windows melted"
Unfortunately, the following year the church was not so lucky when the windows were damaged during another raid in March 1916
In World War Two the church was used as an air raid shelter for a brief time but it also acted as a flight marker for the German aircrafts
---