Hull Trains to spend £60m on new fleet with extra seats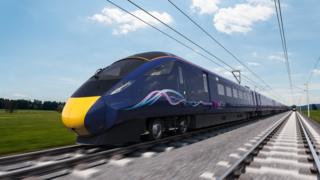 A rail company has announced it is to spend £60m on a new fleet of trains to increase speed and seating.
Hull Trains said five new vehicles each comprised of five carriages would be built by Hitachi at a factory in Newton Aycliffe, County Durham.
Each train would be capable of reaching top speeds of 140mph (225kmph), 15mph (24kmph) faster than the current fleet, and have 61 extra seats.
The new vehicles are expected to enter service in 2019.
Will Dunnett, managing director of Hull Trains, said the company would be able to serve "50% more customers than we do today".
The new fleet would be able to run on either diesel or electric power, Hull Trains said.
Earlier this year, the Office of Rail and Road granted the firm an extension to continue running its trains on the East Coast Mainline to and from London until 2029.