£2m North Lincolnshire lakes plan goes on display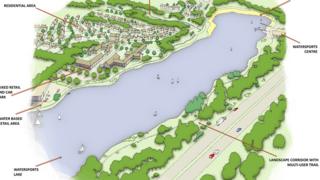 Plans for a lake - including a watersports centre and beach - at the centre of a £1.2bn housing scheme in Scunthorpe have gone on display.
The £2m feature is part of Lincolnshire Lakes, a project including 6,000 homes and a business park.
The site will also incorporate a new 12,000-seat stadium and training facilities for Scunthorpe United.
Planning approval for the first phase was granted in July and work is expected to start in early 2017.
More on this and other North Lincolnshire stories
The lake is the first one of five which will form part of the flood defences and drainage plan for the development.
Concerns over the project have been raised by the local Conservative MP Andrew Percy as the site is located on a flood plain.
The development is expected to be completed by 2028.