MP Martin Vickers warns over cost of Victoria Mills repairs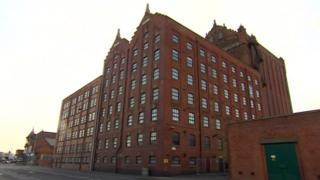 Public services in Grimsby could suffer because the council has been forced to spend £2m repairing privately-owned flats, an MP has warned.
North East Lincolnshire Council is legally obliged to maintain the safety of the Grade II-listed Victoria Mills in the absence of the owners.
Cleethorpes Conservative MP Martin Vickers has urged the government to step in over the "£2m and rising" cost.
The council is taking legal action in attempt to recover costs.
However, Mr Vickers told the House of Commons: "If the bill continues to rise my constituents could well suffer because clearly the council's resources are not unlimited.
"If they have to transfer funding to this all the time, other services are going to suffer."
Repair work on the Victoria Mills complex began in October last year when the building's former silo deteriorated due to poor weather conditions.
Dangerous movement was detected and police were forced to evacuate the building.
'Getting fed up'
Residents were in temporary accommodation for almost four months.
David Needham, who lives in one of the flats, said: "We are all getting fed up of it.
"It is coming up to Christmas. Nobody wants to be out of the house or the flat for a couple of months."
The council says it has repeatedly tried to contact the building's owner Khalid Mahmood Choudhry of CPG Investments, but he has so far failed to respond.
In a statement, the council said it would continue to explore "every available option" to recover its costs.
David Watson, portfolio holder for energy and environment, said: "The council had a statutory duty to make Victoria Mills safe.
"The owners of heritage assets such as Victoria Mills have a responsibility for their maintenance and should act accordingly so that calls on the public purse are not necessary."