Hull flood storage land purchase approved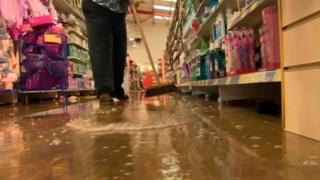 Plans to buy land in an attempt to reduce the risk of flooding to 1,750 properties in Hull have been approved by the local authority.
Hull City Council wants to purchase 155 hectares of land at Castle Hill to create a flood storage to protect Bransholme and the Holderness Drain.
It said the deal would cost £625,000 and would be bought jointly with East Riding of Yorkshire Council.
About £2.4m of government funding has been secured for the project.
More on this and other Hull and East Yorkshire stories
The authority's cabinet approved the purchase at a meeting earlier.
Hundreds of properties were flooded in 2013 after a combination of high tides and strong winds caused a tidal surge, that breached flood defences along the east coast on 5 December.
In 2007, heavy rainfall caused Hull and the surrounding area to flood damaging thousands of properties.