Pleasure Island Family Theme Park closure announced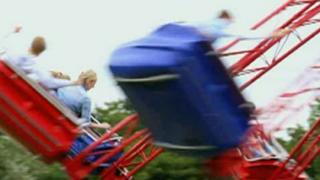 A theme park in Cleethorpes is to close, it has been announced.
Staff at the Pleasure Island Family Theme Park have been told it is to close "at the end of this season".
Melanie Wood, the park's owner said visitor numbers had continued to fall and running the park was "a massive struggle".
Councillor Peter Wheatley of North East Lincolnshire Council said he was "absolutely astounded" when he heard the news.
He said the park was "a significant attraction" in Cleethorpes and it would be "hard to replace an attraction of that size".
'Too many hurdles'
The future of the site and the number of staff affected by the closure is unknown.
Ms Wood said the staff had "tried very hard" for the past seven seasons but "there have been too many hurdles".
A bar and restaurant on the site is to continue to operate.
The park first opened in 1993 and was then closed in 2010 but reopened shortly afterwards with almost all of the 200 staff reemployed.
Ms Wood said there was to be eight days of normal operation and a final firework event 29 October.