Hull armed robber-turned priest in wheelchair challenge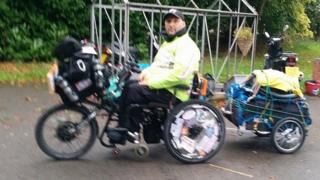 A former armed robber-turned priest is hoping to travel from John O'Groats to Land's End in a wheelchair to raise money for his church.
Matt Martinson, 41, was jailed in 1995 for his part in an armed raid.
While in prison, he said he "nurtured" his faith and was ordained in 2006. A year later, he required a wheelchair after losing feeling in his legs.
Rev Martinson, of St John's Church, Bransholme, Hull, set off on Monday and aims to finish in three weeks.
The priest, who served four years of an 11-year sentence, said he was embarking on the 965-mile (1,553km) challenge to have some "time away on my own".
"I wanted to spend some time with God and being in a parish setting all the time that's really hard because the phone never stops ringing", he said.
According to Rev Martinson, two wheelchair users had completed the challenge before but had support teams with them.
He said: "The church has grown over the weeks, months and years and we've realised that we need to do something with the building because it's falling apart.
"This is something I've always wanted to do but when I lost the feeling in my legs I never thought I would be able to do it."
Rev Martinson is aiming to average between 20 and 30 miles a day and is hoping people he meets along the way may be able to help with accommodation.