Hull's Fruit Market homes plan approved by council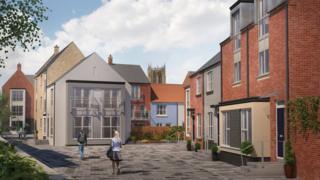 Plans to build more than 100 new homes as part of a £17m scheme to regenerate Hull's Fruit Market area have been approved by the city council.
The previously demolished Scott's Square and Horner's Square will also be reinstated as part of the proposals.
Work on the development is expected to start early next year and be completed by the end of 2019.
Developers Beal Homes said the project was "essential" to making the Fruit Market a vibrant and sustainable area.
'Unique cultural gems'
Under the proposals, 109 houses will be built, most of which are expected to be one, two and three bedroom townhouses. It will form part of a "newly-created urban village", developers say.
Four commercial units on Humber Street for shops, restaurants or cafés will also be rebuilt as part of the plans.
Garry Taylor, from Hull City Council, said he believed the scheme would put the area on the map "as one of Hull's unique cultural gems", adding the homes will "prove incredibly popular".
Horner's Square dated back to the mid-1800s while records show Scott's Square was created from about 1757 by local builder Joseph Scott.