Grimston beagle-breeding farm village vandalised twice in a month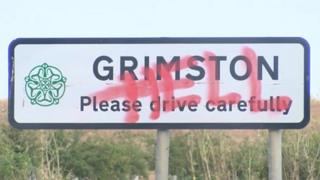 A village in East Yorkshire where a dog breeding farm is based has been targeted by vandals for a second time in a month.
The word "hell" has been painted on Grimston's sign, while "murder" and "death camp" were sprayed onto roads.
B&K Universal, which breeds beagles for scientific experiments, was given government approval for a new unit in the village last year.
Humberside Police said it was investigating.
The force said graffiti being left on street furniture in Grimston, near Withernsea, was first reported on 9 August.
Earlier, officers were called again after reports of graffiti on buildings, roads and road signs.
Resident Nick, who did not want to give his surname, said the "attacks" were "very upsetting".
"Cars had to be cleaned and the council cleaned and tarmacked the road. This morning residents of Grimston have woken to the same scenario," he said.
He said people living in the village had "kept quiet last time but they're naturally very upset about the situation".
A spokesperson for B&K Universal said "We share Grimston residents' abhorrence and disgust at the cowardly attacks on our community and the damage done to private property here."
East Riding of Yorkshire Council said it was "aware of the graffiti issues in Grimston and officers have been involved in its removal from public assets".
"Should there be a successful prosecution of those responsible, the council will look to recover the costs," the authority added.
Animal rights group Cruelty Free International (CFI) lost a judicial review against government approval for the firm to breed dogs at the site earlier this year.
The company was approved planning permission in 2015 and CFI challenged this decision in the High Court, claiming it violated EU law as the dogs would have no outdoor space.
But B&K Universal claimed outdoor access would expose the dogs to infections.