Hull Freedom Festival celebrates ninth year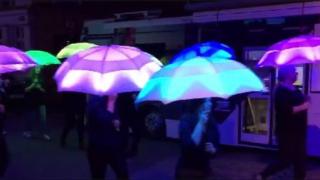 Nearly 73,000 visitors flocked to Hull's international arts festival at the weekend, despite heavy rain.
The city's three-day Freedom Festival explored historical and modern concepts of freedom through music, street theatre, art and comedy.
More than 200 performances by artists from 30 countries took place around the city's Fruit Market.
Organisers said they were "thrilled" by the turnout, even though Saturday rain meant it was lower than last year.
Mikey Martins, artistic director and CEO of Freedom Festival Arts Trust, said: "We're all feeling very proud and happy after a wonderful weekend.
"Even the rain on Saturday didn't stop tens of thousands of people flocking to the festival to enjoy a programme featuring so many phenomenal artists."
The Freedom Festival was first held in 2007 as part of commemorations to mark the 200th anniversary of the abolition of the British Empire's slave trade.
About 100,000 people attended in 2015.
Mr Martins said the festival, now in its ninth year, was "incredibly well-received".
Hull celebrates the concept of freedom because of the city's strong links to the anti-slavery abolitionist movement.