Victoria Mill in Grimsby needs extra £1m in repairs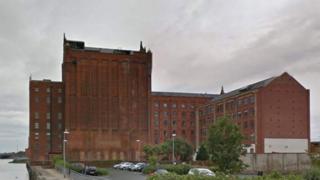 A further £1.2m is to be spent by a council on repairs to a listed building in Grimsby.
North East Lincolnshire Council said the owners of the silo at Victoria Mill have not responded to legal action to make urgent repairs.
The authority has already spent £1m on work to make the building safe but it is continuing to deteriorate.
Residents in other parts of the complex had to move out temporarily in February due to safety concerns.
The Labour-run council said the building, which is Grade II listed, is one of the most "distinctive and iconic" buildings in the area.
Planning permission to convert the silo part of the Victorian flour mill complex into a residential property has now lapsed and it has been left to deteriorate.
The council said it has a statutory duty to make the building safe and secure should the landlord fail to comply with enforcement notices.
The owners, who the council has not identified, have failed to act, the council added.
It said officers would continue to pursue them but doing nothing was not an option.