RSPB objects to Yorkshire offshore wind farm plan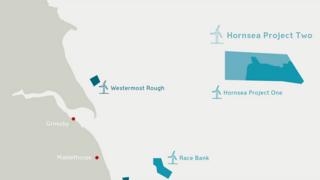 The RSPB claims plans to develop a wind farm off the East Yorkshire coast pose an "unacceptable risk to nature".
The government has approved the building of 300 turbines 55 miles (88 km) east of Hornsea.
The RSPB said the development was "in the flight path" of two threatened species of seabirds - gannets and kittiwakes.
Developer Dong Energy has not responded to the charity's claims.
If built, the wind farm would cover an area of 185 sq miles (480 sq km) with 623 ft (190 m) high turbines and provide enough electricity to power almost two million homes.
Dong Energy is already building a smaller site nearby.
'Deeply concerned'
The RSPB said it acknowledged that the offshore wind industry was important for the UK to "cut its carbon emissions and fight climate change". However, it added the Hornsea project "poses an unacceptably high risk to seabirds that nest on the Yorkshire coast".
The charity's head of reserves, Gwyn Williams, said: "Each year, hundreds of thousands of birds flock to the cliffs between Flamborough Head and Filey Cliffs in a mesmerising seabird spectacle.
"The importance of this site, not just to Yorkshire but to the UK, has been recognised and the site is designated as a Special Protection Area by the government.
"Many of the birds that nest there fly out to feed where these wind turbines are being proposed, just over 60 miles away. Combined with the impacts of other offshore wind farms we are deeply concerned about the future of these seabirds."
A spokesperson for the Department for Business, Energy and Industrial Strategy said the project had undergone "stringent checks" and the design and construction of the project has been adjusted in order to reduce impacts on birds.