British Steel employs trainees at Scunthorpe and Teesside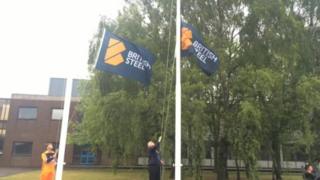 British Steel has announced plans to employ some 100 trainees to work at its sites in Scunthorpe and Teesside.
The recruits, aged 16 upwards, will join the company in the summer in a variety of roles.
The firm said investing in young people and training was vital to ensure the future of the steel industry.
The recruits include apprentices, graduates, people enrolling on the degree apprenticeship scheme and undergraduates.
The company was created in June when Greybull Capital bought the long products Europe business of Tata Steel and renamed it, reviving the British Steel brand.
Plans to recruit the trainees brings the number of people taken on by the company to nearly 200 after it previously announced 80 agency workers would be transferred to its books.
British Steel said 46 apprentices would serve three-year craft or functional apprenticeships while the degree apprentices would go on to study for engineering degrees after an initial three year apprenticeship.
The 17 graduates joining the training scheme will include people with degrees in engineering, science, human resources and finance.
The company said the undergraduates would work on placement schemes and many would be likely to join British Steel full-time once their studies were completed.