Life sentence for alarm row murderer Louis Fowler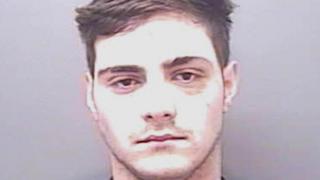 A man who stabbed a "kind and caring" man to death outside a property in Hull after an argument over an alarm has been jailed for life.
Jason Kowalski, 39, was found injured outside flats on Westbourne Avenue on 15 February. He later died in hospital.
Louis Fowler was convicted on Thursday following a trial at Hull Crown Court.
Mr Kowalski was stabbed through the heart while "bravely trying to protect himself and his friend" after a row over an alarm, detectives said.
Fowler, of Westbourne Avenue, who denied murder, was ordered to serve a minimum term of 22 years before he is considered for release.
The 21-year-old was "wallowing in self pity" in his new flat before threatening to kick his neighbour's door in during the confrontation, police said.
In a statement read out in court, Mr Kowalski's mother Christina said: "Half of me died the day he was killed. I have a constant feeling of sadness, a feeling I carry with me all the time.
"First thing I see in my mind every morning is when I had to identify the body. Nothing seems to be healing in the way I feel."
Mr Kowalski's friend, Richard Foster-Taylor, said he had to move out of the neighbouring flat on Westbourne Avenue because it was "too hard to stay in the same building and live in the same street".
After the sentencing, Det Ch Insp Wendy North, of Humberside Police, said the confrontation over the sound of an alarm had been "escalated beyond all proportions".
"[Fowler] took no responsibility for his own life or his behaviour during the weekend that led up to this tragic incident.
"He blamed those who were closest to him for what he perceived to be a 'hard life'.
"Our thoughts are with Jason's family as they try to move forward and come to terms with their loss."