Humberside Fire Service recruitment freeze over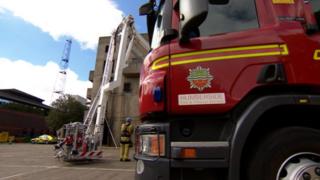 A fire and rescue service is to take on new recruits for the first time in 10 years as it is losing staff through retirement.
Humberside Fire Service said it would recruit 20 places in January and possibly a similar number next summer.
Dene Sanders, chief fire officer, said the force was actively looking to recruit women and people from black and minority ethnic backgrounds.
He said the force was currently more than 90% male and 90% white.
More on this story and others from East Yorkshire and Humber
Mr Sanders emphasised the service would not "compromise our high standards" and people from under-represented groups were not guaranteed places.
All new firefighters had to undergo a series of tests and get above national standards, he added.
He said a period of "operational efficiencies" was over and the service was looking to recruit again.
It is holding a series of days for under-represented groups to get a taste of the fire service.
Jo Brown, a firefighter with 22 years' service, said: "It an exciting career, no two days are the same and it's not the macho job it is perceived to be."
Mr Sanders said only about 5% of a firefighters time was spent actually tackling fires and there were many other duties undertaken.