East Yorkshire veteran's 'thank you' post goes viral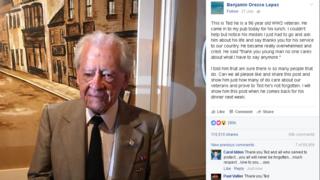 A social media post asking people to show their appreciation for a war veteran has gone viral, with thousands of people saying thank you to him.
Ben Lopez, a pub manager in Cottingham, put the plea on Facebook after talking to Ted Fullerton, 96, who served in the RAF during World War Two.
It has been shared more than 100,000 times with over 60,000 comments.
Mr Fullerton said: "This has been far, far better than anything I could have expected. I'm lost for words."
In his post, Mr Lopez, who runs The Duke of Cumberland pub where Mr Fullerton regularly goes, said: "This is Ted, he is a 96-year-old WW2 veteran. He came in to my pub today for his lunch. I couldn't help but notice his medals. I just had to go and ask him about his life and say thank you for his service to our country.
"He became really overwhelmed and cried. He said 'Thank you, young man, no-one cares about what I have to say anymore'."
Mr Lopez's post has since attracted huge numbers of comments from well-wishers and admirers worldwide.
One said: "God bless you Ted for everything you and other service men and women gave up in order that we survived we are very grateful."
Another read: "No words can say how truly grateful I am to you for believing in freedom and fighting for your country and all the generations to come."
Mr Lopez, 28, said he initially put the post on Facebook to get a "few comments from friends" and was surprised how "mental it had gone".
Staff and regulars at the pub said the recognition was well deserved.
Barmaid Chelsea Botterill said: "He's such a lovely man and that's what we need, more respect to men like that."