Humberside Fire Authority's sea response team under threat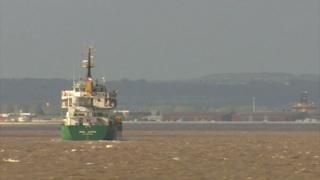 Fire chiefs have warned they may no longer be able to respond to fires at sea due to training cuts.
A Humberside Fire Authority report said funding and training for crews boarding vessels by helicopter was withdrawn last year.
It said if the position did not change the service would "reluctantly" stop attending vessel fires at sea.
The service is currently in talks with the Maritime Coastguard Agency in a bid to resolve the issue.
Withdrawing the response to fires at sea would mean an annual saving of about £50,000, the report said.
The region's Fire and Rescue Marine Response manager Phil Leake said: "We are very proud of this service, and it is the last thing we want to have it removed."
'Highly trained'
However, he said many of the 32 officers currently trained to deal with fires at sea were due a refresher course, particularly in relation to boarding vessels from a helicopter, and withdrawal of winch training meant it was hazardous for them to board boats.
He added officers needed regular refresher courses in all aspects of training to maintain standards.
Humberside Fire Authority covers an area of the North Sea from Norfolk to Scotland.
So far this year crews have been called to three incidents, including a large fire on a cargo ship off the coast of Norfolk.
Training was previously provided under an agreement with the Maritime Incident Response Group and RAF Search and Rescue, but currently no agreement or funding for helicopter response training is in place.