Funds of £11.5m for art and flood schemes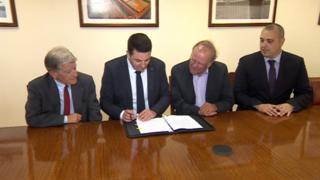 Six projects will get £11.5m of funding as part of a deal signed by the new Northern Powerhouse minister.
More than £7m will be spent on flood prevention schemes in East Yorkshire and £3.5m will go towards a new £36m concert hall in Hull.
The funding was announced by Andrew Percy MP who was visiting Hull on his first official engagement as the government minister.
Mr Percy said it was about making more decisions locally.
"The whole concept of the Northern Powerhouse of course is trying to close that economic gap there has been between the North and South," he said.
"I am really keen that we get more decision making powers devolved down to local people."
More on this and other Hull and East Yorkshire stories.
The funding is part of a Growth Deal agreed with the Humber Local Enterprise Partnership (LEP) and is designed to boost economic activity in the region.
Humber LEP claimed the funded projects would "create 75 direct jobs, support 404 indirect jobs as well as generating 279 construction jobs".
The Hull Venue will have a capacity of 3,500 and is scheduled to open in 2018.
Hull City Council has claimed it will create 500 jobs and generate £13.8m for the local economy every year.
More than £5m is to be spent on the Cottingham and Orchard Park Flood Alleviation Scheme.
The project, on the western outskirts of Hull, involves the building of concrete lagoons to trap rainwater. The area was hit by major flooding in July 2007.