Scunthorpe United announce deal with British Steel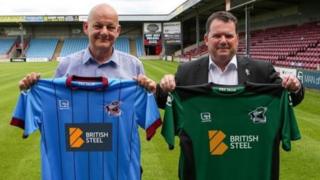 Scunthorpe United and British Steel have announced a new partnership that will use steel forged in the town to build the club's new stadium.
The football team's new kit for the 2016-17 season will also be sponsored by the company.
The town's plant makes steel for the rail and construction sectors.
The new 12,000 seat stadium will be built as part of the Lincolnshire Lakes development.
Live updates on this story and others
Community projects and work in schools is also planned as part of the two organisations working together.
Scunthorpe United chairman Peter Swann said: "British Steel and Scunthorpe United are both at the heart of the community and we are proud to be working together."
The team will be wearing the new kit when the season starts on Saturday 6 August when they play at their current home Glanford Park against Bristol Rovers.
British Steel's Commercial Director Peter Hogg said: "We're delighted steel made in Scunthorpe will be used in The Iron's new stadium. It promises to be one of the finest grounds in the Football League and it makes perfect sense that we join forces on this project."
British Steel became the new name of the former Tata Steel plant in the town in June when Greybull a UK-based investment firm bought the business for a nominal £1 fee safeguarding 4,000 jobs.