Amy Johnson festival to commemorate Hull aviator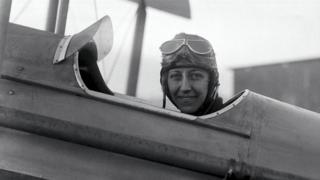 A two-month festival remembering Hull-born aviator Amy Johnson has started in her home city.
Ms Johnson was the first woman to fly solo from the UK to Australia in 1930.
The East Yorkshire event commemorating the 75th anniversary of her death has more than 60 cultural and engineering-based events.
As part of it an exhibition, Da Vinci Engineered, featuring flight machines based on Leonardo Da Vinci's designs is in the UK for the first time.
A free performance of Place des Anges, involving acrobatic, flying angels suspended high above 10,000 spectators, is to take place in the city on Saturday night.
A Moth for Amy art project features 59 large, painted moth sculptures and was recently launched.
Ms Johnson flew a De Havilland Gipsy Moth airplane about 8,600 miles (13,840 km) from the UK to Australia.
She was born in St George's Road, Hull, on 1 July 1903.
Her solo flight to Australia took 19 days and she landed in front of a huge crowd in Darwin on 24 May 1930.
The 37-year-old died during World War Two when the RAF plane she was transporting crashed in the Thames Estuary on 5 January 1941.
Her body has never been found.