MP Karl Turner apologises for not declaring interests in Commons questions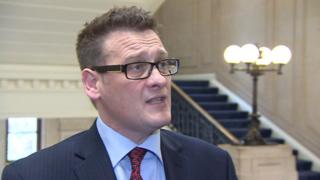 A Labour MP has apologised for not declaring a relevant interest when asking parliamentary questions.
Hull East MP Karl Turner tabled a series of written questions in October 2015 about legal aid.
The Commons Standards Committee upheld a complaint that he failed to declare that his wife worked as a solicitor in a firm bidding for legal aid contracts.
Mr Turner said he had since "re-familiarised myself with the rules of the House of Commons".
More on this and other Hull and East Yorkshire stories.
In its report, the committee said: "We agree with the commissioner (the Parliamentary Commissioner for Standards) that Mr Turner should have declared an indirect interest in respect of his wife's employment in speaking in these debates and in tabling the parliamentary questions.
"The purpose of declaration is transparency. It is not intended to prevent members participating in proceedings but to ensure that other members of the house and the public are fully informed at the relevant time about possible influences on members."
It added: "We also agree with the commissioner that this is a serious case made so by the number of occasions involved and by Mr Turner's insistence on his own interpretation of the rules."
The committee ruled that Mr Turner should apologise to the Commons by writing to the committee.
Mr Turner said: "I fully accept the findings from the Parliamentary Commissioner for Standards and the Committee on Standards.
"I would like to apologise for not declaring a relevant interest when tabling the five written questions and during the five concerned debates on Legal Aid and the Criminal Bar.
"I will be writing to the Committee of Standards in due course to do so formally."