Shoreline Homes announces consultation on Immingham estate demolition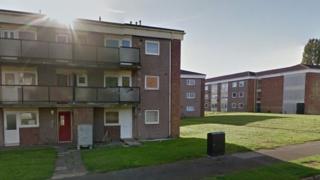 Hundreds of affordable homes in North East Lincolnshire could be demolished.
Grimsby-based housing provider Shoreline has begun a consultation on selling or demolishing properties with "negative financial value".
A total of 224 flats on Immingham's Washdyke Estate could be emptied and demolished, with 381 homes across the borough sold.
A consultation on the future of seven sheltered housing schemes will be held in 2017, Shoreline said.
The charity took over North East Lincolnshire Council's housing in 2005.
Chief executive Tony Bramley said affected residents had been notified of the "asset review" of nearly 600 homes and would be re-housed as a priority if the proposal went ahead.
He said properties in Grimsby and Cleethorpes would only be sold on, as affordable homes, "as and when empty".
The consultation finishes on 26 August, with a decision by November.
"As the area's largest affordable housing provider, it is our duty to ensure the long-term provision of and investment in affordable accommodation for years to come to serve future generations," Shoreline said.
"The cost to manage and maintain [the properties] exceeds the forecast rental income and will severely drain our finances."
Declining demand, outdated accommodation, government welfare reforms and 1% rent reduction has led to the financial situation.
Maintaining the 1960s blocks would lead to a loss of £3.9m over 30 years, but "dealing with underperforming homes" would release £25m for investment in modern housing.
'Not taken lightly'
"It is never the sort of thing you go into lightly," Mr Bramley said.
"It is people's homes and the future supply of affordable rented housing, so it is essential we pool as wide a range of views as possible, come to a considered, open decision and justify it.
"We don't see another phase beyond this, we don't want to unsettle the rest of our residents.
"It would be the mid-2020s before we might have another look."
He added it was not a "kneejerk reaction to a sudden change in circumstances" but had "been on the cards for a long, long time".